In a spate of recent "improvements" (panic in reaction to Google+ ?) Facebook has basically constructed itself a Winchester Mystery House.
For those unfamiliar with the property, it is a sprawling tangle of construction, that during the lifetime of its owner was in a continual state of unplanned extension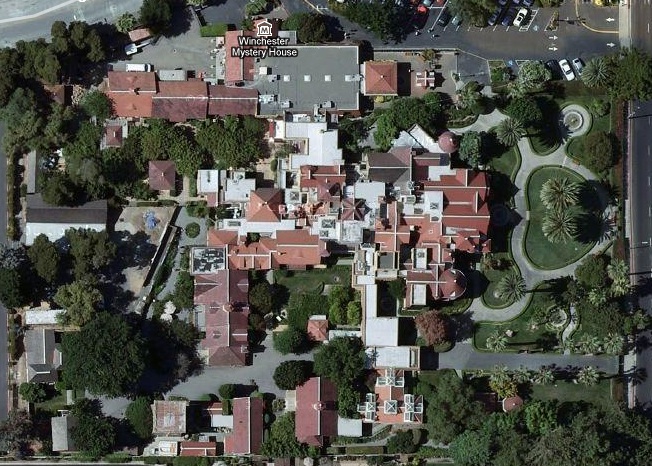 I love this quote from its Wikpedia entry:
The Queen Anne Style Victorian mansion is renowned for its size and utter lack of any master building plan.
I may be being a little unfair to Facebook. I'm sure that in a smoky dark room somewhere there is someone with a vision, even if it's simply to "copy everything twitter and Google Plus does".
The end result, however, is not good, not from a user experience point of view. Users have become frustrated over the years with Facebook's incremental meddling with the user interface and experience and lack of explanation of what it delivers/provides (e.g. security controls). The chaotic array of controls and lack-lustre attitude to user privacy has become the standing joke of Facebook.
Despite shuffling some of those controls around into marginally more cohesive buckets, it seems Facebook still hasn't really learnt any lessons. The latest barrage of changes are being thrust on users at a bewildering pace with absolutely no justification in the users' eyes. A few "tool tips" over new features by way of explanation and training and it's back slapping all round at Facebook for another Google+ feature ripped from cyberspace and planted haphazardly in the Facebook workflow.
Facebook is missing some core principles, the kind of principles that drive good user interface design, good user experience and aid technology adoption.
Firstly, it does not, or seems not to consult users. The latest swathe of features are most obviously a reaction to the innovation over at Google Plus and as such has probably been thrown together at Facebook in a blind panic. Users have not been asked whether they want or need these features and what seems distinctly lacking is any study or research into how they should be smoothly integrated into the whole user experience. The reality is, they are not. A typical facebook page is now an eye-watering explosion of streams, memes and unrelated themes. It's ghastly. Users are not bought into it, users are confused by it, the senses are cluttered by it: 3 basic errors in one fell swoop.
Secondly, the meta-model, mental-map, mental-model, metaphor (or whatever you want to call it) for the information structure it is a complete mystery to the average user. It was never that great to begin with, but at least with a model of "friends", "networks" and "lists" you had some idea where your information came and went. Facebook has been so busy bolting on copied concepts to this model, that it has lost all connection with reality and any hope of being understood by the average human being. I doubt even a paint-by-numbers visualisation of it permanently stuck to the wall would help much.
The information model has been sticking-plastered time and time again, to now also include "subscriptions" (i.e. twitter-style following of anyone); classifcation of updates into pre-defined types ("important", "most", "life events"); classifcation of users ("friends", "acqaintances", "restricted") - nowhere have I seen a model of how all this inter-relates; and more importantly, a slick visual tool to control it.
Compare this with Google Plus - built from the ground up with a simple information model: Circles. You control who you publish to by modelling your contacts on a concept we are all familar with in the real world: different circles of friends and acquaintances.
In contrast, facebook has welded together both subscription control models (e.g. I follow you, and I only want to see your life event updates) with publishing control models (e.g. This is only intended for my family) and overlays all of that with its own filtering, ranking and sorting framework. Finally, it splatters it all over your web page. Consequently it's practically impossible to figure out who will see what and very hard and time consuming to get to grips with what all the various settings should be to suit your needs.
This level of confusion and complexity raises the barriers for users: it increases their effort requirements, it lowers their understanding of benefit. Both these factors are key elements of recognised technology adoption models, serving to reduce the likelihood of adoption, or drive defection.
While Facebook thinks it may be defending itself from the challenge of Google Plus with the right hand, chances are the left hand is shooting itself in the foot.